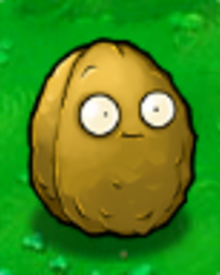 Wall Nut is another best friend of AGK. He used to live with Crazy Dave, but got ready to move out. He is a pretty cool plant, and knows how to boot Icecream Man offline. AGK asked him to watch Leonidas & Kaeru one time. So he did. He also hit Arthur.exe, and gave Kaeru money to buy beers. He is able to roll instead of walking if he wants to. He got to go on a road trip with AGK's family. He brought his brother along too. He chilled in the back of the car with Leonidas, Jacob, and Bomb Nut. He is also sometimes annoying. He knocked out AGK and Michael Myers one time.
When he knocked out Lilac, she was left staying still while in a dream. Wall Nut kinda panicked, but he saved her from her nightmare. He doesn't like thots. He even insults and attacks Ivy for it.
Fears
Zombies
Heights (It was said when he was being lifted up to Meegee's Tournament)
Community content is available under
CC-BY-SA
unless otherwise noted.