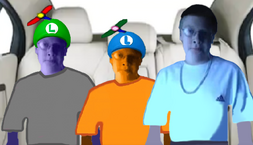 The family consists of 8 people. The family is sort of a mess, as the mother divorced the Nazi father. The mother (Mary) is caring unlike the father (Harold). The father often abuses the kids he has: AGK, Leonard, and Leonidas. 4 family members have "Leo" in their name. The names are very similar together such as Harold and Harry. Mary owns 2 other kids: Leorich & Jacob. They are considered lost brothers because they are rarely with the other half of the family. The biggest lost brother is Harry. He is not welcomed in the family. Almost every person in the family is a fan of a Mario character. The first member to die is Light Leopold.
Community content is available under
CC-BY-SA
unless otherwise noted.