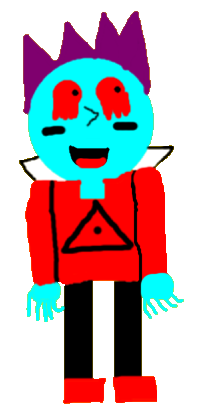 Roxx is the assistant of the Illuminati. As seen in episode 15, he's given a task because there's less chaos going on. So he is supposed to bring more chaos back.
His tasks were given. One is to go to the Musroomverse and grab a Fakan. Then head to the Trolliverse with the Fakan, and the fun begins. His bloody eyes were caused by being punished by Eyereez.
Roxx seemed to act very off when meeting Brianna. He seemed very kind to her as a matter of a fact. When Squidward arrived with some news about money, Roxx got real jealous and angry. He later made up his mind, and he was about to destroy the city before the crowd showed up. He beat up Mario very badly, and dodged every punch Mario threw. He was defeated by Illumiweegee.
Powers: Sun Ball, Electric Ball
His new target ended up being AGK, after news from the Illuminati. He got distracted about Scan when he noticed him right next to AGK. He told AGK instead that if he doesn't bring Mario, he will kill AGK. AGK ignored and ran away. He never got to do his task, because Angry Sun blasted him away.
Community content is available under
CC-BY-SA
unless otherwise noted.