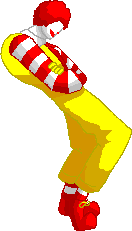 He is a murderer clown just like Jojo. He also works for Zomboss. He was given a task to kidnap Casey, Jeffery, and Randy. He succeeded very well actually with Chill Mushrooms. He was later then killed and turned into a zombie by Diggy. Just like Arthur.exe, he can also teleport to people, and not just locations.
He has a special attack called "ran ran ru" which after he says that, he can imagine the person he's fighting to explode. It then happens in reality. He doesn't even need to use his arms when fighting. Heck when he used Chill Mushrooms, they just float. He tried to get AGK and end him. However, he failed both times. The second time nearly killed him as he got punched off a high stairway. Lego Mario had noticed it. When Lego Mario looked back after a fight he had in the zombie lair, he was gone. He developed a hate for AGK, and would only spare him if he ate a Bic Mac. AGK still said otherwise.
Community content is available under
CC-BY-SA
unless otherwise noted.