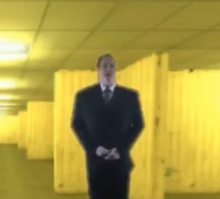 Rodrick Parkinson
first appearence was in the "AGK Exits The Backrooms episode", where he wouldn't shut up about plans that were happening.
AGK
tried shutting him up, but couldn't. However,
Rodrick
disturbed the
Whispering Squash
, which made him go crazy and squash him. This didn't end, as he came back one last time blocking
AGK
exit. This was the first enemy that pushed AGK beyond his limits.
Besides all of this, he worships the Illuminati. His head can also turn into Illuminati head. This makes him a little tougher, and reality, time, and existence mixes and gets weird. He also helps with Error Weegee. As it turns out, he now owns the Backrooms thanks to him. Heck, he even lives there. When he saw Dan in there, he got mad he was in his so called house. So he got ready to end him, but Dan punched him far enough away.
News
He had a chat with Roxx. He claimed the team was not doing well, mainly due to Ian. He claimed Ian hasn't killed anybody. He told Roxx to be more aggressive to Ian. Lastly, Rodrick got a tape that was supposed to be sent for Roxx.
Community content is available under
CC-BY-SA
unless otherwise noted.