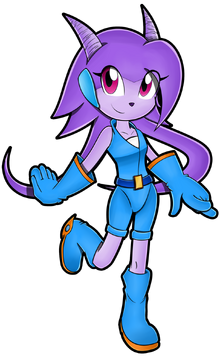 She is another friend of Tailsko. She doesn't have much of powers besides speed, but she tried to help find Cone Head location. Turns out she also as well dated Cone Head. She also defeated the Angry Sun for the first time with water. She also trolls sometimes.
She oddly met Roxx. While she was walking down the street, she found a page from the Trolliverse. After being knocked out by Wall Nut, she had a dream about Roxx. However, this was real and, Roxx controlled it. Wall Nut hit her on the head again to wake her up.
Community content is available under
CC-BY-SA
unless otherwise noted.