Keitel is another worker of Hitler. He finds the drama with AGK to be pathetic. He is an often worried person. When it comes to killing though, he does it. Hitler sent him to kill AGK. He had to break into his house first. However, it failed due to Harry. Harry kept up with pranks, and things to nearly kill Keitel. Each time something fell from the ceiling, he would look up. He gave up after Harry showed him Whispering Squash. It doesn't end though, he plans to make a robot, which ended up being Scarlett. He's Hitler's favorite worker cause he always has plans one after another.
SPRITES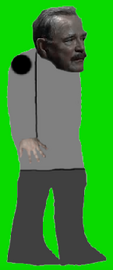 Community content is available under
CC-BY-SA
unless otherwise noted.