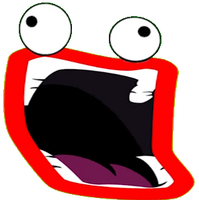 He appeared out of nowhere when he was introduced. Firstly, Ashley told AGK to move so he could meet Error Weegee. He warned Error Weegee what he was about to do. He blasted a giant lazer out of his mouth, but Error Weegee survived it, except a bit damaged. He also came out of nowhere to help Mario. He blasted his lazer at No Face, Commadre Madio, and Error Weegee.
Community content is available under
CC-BY-SA
unless otherwise noted.