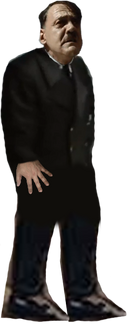 Hitler... oh yeah that guy. He hates AGK with a passion for 2 reasons. One is because he called him fat, and 2 is because he is against Nazis. He sends any targets to people if he can. He used to have a different army of members. He almost had power to take over the world, but Kareeo came around to put an end to it. He's also the leader of Germany, as Dan points out.
He was killed by Lebron James, but then revived by Krebs. He doesn't like the DS version of PvZ for some odd reason. When Cone Head by accident teleported to his place, he was so rude to him and made Cone Head offended. Hitler finds any way to kill AGK. When he often tries though, Fegelein jumps in and ruins it for him. He also hid cameras to stalk AGK, but he also caught Arthur.exe in it too. He is often called Shitler by everyone. He wants everyone to bow down to him, and call him a god.
Other Name: Mein Futher
Community content is available under
CC-BY-SA
unless otherwise noted.