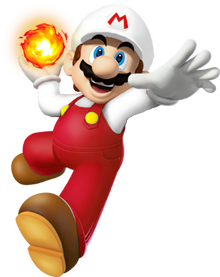 He lives with his brother Lego Mario. He knows where the zombies live, so Waluigi and AGK went to find him. He likes to insult Lego Mario sometimes for some reason. He made fun of his weight once. He saved Linkin Park from being completely destroyed. The Angry Sun is no match for him. He's beaten him in his second form with 1 punch. He's also beaten his new attack (Shine Bright) in his first form.
I AM HERE
He generally cares for everyone in his city, and counts them as family. When Randy died, he was left sad, and knew Scarlett did it. He even asked if it was a joke, but he felt like he let a member down. When Scarlett was about to kill Jeffery, he kicked her in the sky. He was the first character to really scare Scarlett. He destroyed her face, and her hand. She ended up being so scared she didn't wanna fight him anymore, so Mecha Luigi took cover.
Community content is available under
CC-BY-SA
unless otherwise noted.