He origins as a rude boss of the zombies. He's not the boss mainly but he is one regardless. He's scary tough as he killed many of the Geralds. He is also very smart as he sort of planned it out. Fire Mario been trying his best to get him killed, and so far only Mini Wario can really do damage to him. He's evil and crazy, he literally tried to turn Luigi when he was a zombie against his brothers.
AGK Adventures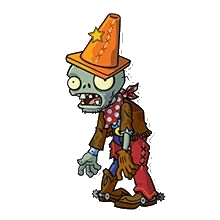 He spied on Crazy Dave, AGK, and Wall Nut in episode 12. He wanted to figure out who AGK was. He found out his name as well. His best friend is Yeti. He's the co-leader of the zombies. He went after AGK for his brains, but AGK was not willing to listen.
He tortures those who don't listen by taking their DNA or brain piece, and putting it on a secret machine. Then all they can feel is infinite torture and pain. He is one of the 2 zombies that is able to teleport. The cone on his head really protects him. When AGK landed a punch, it did nothing. Heck, when AGK blasted it at him, he used his head to dodge the blasts because the cone really does help. His evil mind always gets the best of him. He stole money from a charity which was to help kids bitten by zombies.
The Battle
In episode 14, he got real angry. He was ready to take on all 3, (AGK, Tailsko, and Emerald. He didn't see it coming but he got rekt with trying to deal with just 2 of them. But then Yeti came along to help him. His part of the battle was over when Waluigi punched the cone off his head. He just teleported away. The reason is because he's very weak without his cone.
The Battle #2
In episode 18.5 he battled with AGK. It ended quickly though, as all he did was paralyze him. Later, AGK sent of course a Bomb Keyboard at him, so he used his cone to dodge. He didn't know it would explode. So he teleported out of the lair.